Soundpeats is one of my favorite manufacturers of wireless headphones. The brand today launched a new TWS headset called Soundpeats Sonic earbuds.
This review will share my impressions of the build, the materials used, touch controls, and sound and battery life. Of course, you can understand all the advantages and disadvantages of headphones during the whole reading process.
It is worth mentioning that the acoustic sound waves for only $50 can get an attractive price. These are not the cheapest TWS earplugs out there, but let's look at the benefits you get.
First of all, this model gets a Bluetooth 5.2 wireless connection, the QCC3040 chipset with aptX codec support. Also, the headset has a beautiful and unusual appearance.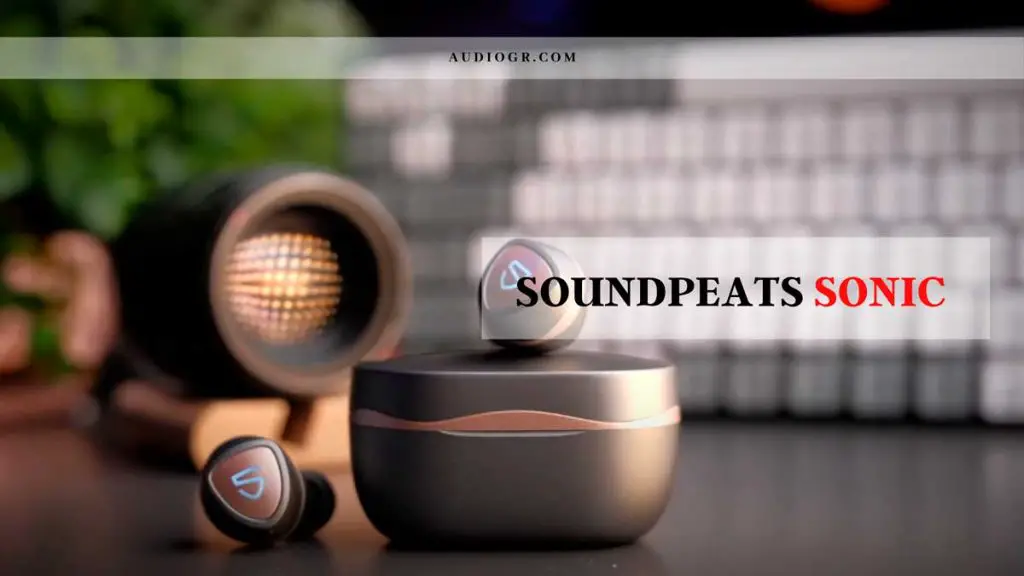 Soundpeats Sonic
Specification
Bluetooth Chip
QCC3040
Waterproof Level
IPX5
Bluetooth
5.0
Working Range
33 feet(10m)
Technology
BT5.0, HSP, HFP, A2DP, AVRCP
Package

• Earbuds Dimensions: 20.5*18.3*27.2mm
• Item Weight:47.49g
Battery

• Battery Capacity: 400mAH (Case)
• Battery Capacity: 70*2mAH c
• Charging Time: 2 hours
• Standby Time: 150 hours
• Playtime Time: 15 hours (Earbuds)
What is in the Box?
• 1 x SOUNDPEATS Sonic Wireless Earbuds
• 1 x Charging Cable (USB Type-C)
• 1 x Charging Case
• 6 xInterchangeable Ear Tips
• 1 x User Manual
Buy
Check On Amazon

Check On Aliexpress
Soundpeats Sonic Review
Unboxing
The new version of wireless earplugs uses Soundpeats standard packaging. This is a small box with a big bright picture and basic features.
Yes, it is difficult to name the premium packaging because these are cheap headphones. I found this charging box with headphones and various earplugs, instructions, and Type-C charging cables inside the package.
In other words, the device is very typical, just like the cheapest TWS headset. Therefore, I suggest moving to the next part to find out the material of the headset.
Design, Build Quality, and Materials
The new Soundpeats Sonic appearance reminds me of the TrueShift 2 version tested half a year ago. But the main difference between the new generation of headphones is an exciting combination of colors. Grey and gold are very unusual combinations that I encountered for the first time.
You might think that headphones of this color are only suitable for girls. But this is not the case. This color will also attract men. It is a young and modern color with a sense of simplicity.
In general, I like the design of Soundpeats Sonic, and it turns out that the headphones are stylish and unusual.
As for the build quality, everything here is perfect. I did not find any unrelated squeaks or other annoying sounds. Also, the material I like to use is a very durable matte plastic.
There is no particular problem in terms of convenience. The standard earplugs hit my ears immediately, and I can safely use the earplugs for a long time without fatigue. Also, Soundpeats Sonic is suitable for sports activities. Since the ear canal fits very tightly, I don't lose the earphone's feel even if it works fast. 
The brand logo is located on the front of the earbuds. It accepts LED backlighting, and touch control has been integrated into this logo. I will discuss its characteristics in the next section. There are two charging contacts and a channel label inside. A microphone hole can be seen on the side.
Now introduce the charging case. It is also the same color combination, gray and gold. The lid uses a reasonably strong magnet to obtain a smooth opening stroke. Therefore, the headset will never fall out of the box even if it shakes forcefully.
Under the lid of the box are a headphone jack and an LED indicator for indicating battery power. On the back of the box is a modern C-type charging connector. But you shouldn't expect wireless charging. Soundpeats Sonic is still the budget part of TWS headphones.
Connect and Control
These are not the first wireless earbuds that I can use Bluetooth 5.2 wireless connection test. More and more TWS headsets have acquired the latest wireless technology.
First, it has higher energy efficiency, better signal transmission, and a more extended signal reception range. I did not find any signal quality issues for the Sonic model in the test.
It also has a game mode. This allows you to get the lowest latency when watching YouTube videos and playing games without too much discomfort.
Regarding touch control, the new Soundpeats Sonic headset has all possible functions. You can pause, play, switch tracks, call the voice assistant, and even adjust the volume.
Sound and Microphone Quality
I can't find any information about the driver in Soundpeats Sonic. But I want to use an 8-10mm dynamic driver for headphones.
In practice, wireless headsets perform surprisingly well. In terms of bass, Sonic has a giant bass.
But I can't say that this kind of bass plays a significant role in midrange and treble. Since they can also play well, each instrument's sound can be heard clearly, and the singer's voice is clear and easy to understand.
I like the way the new version of the headset is played. It seems that the manufacturer is developing a new model, so Soundpeats Sonic takes it to a new level regarding sound quality.
Some information about the microphone. As always, everything here is in a quiet room, and the microphone performance is excellent, but I want better sound quality in noisy places. Yes, my voice is perfect, but CVC 8.0 can't complete the task.
Battery Life
For each channel of Soundpeats Sonic headphones, the manufacturer has set the battery capacity to 70 mAh. My tests show that the headphones can play at 14% volume for approximately 60 hours. This is an actual record holder. I have never seen anything like this before.
Also, there is a 400mAh battery in the charging box. With it, you can recharge the headset several times, and the total battery life is about 43 hours. But the charging time is standard-it takes 1,5 hours to pass the Type-C port.
Conclusion
Soundpeats Sonic is an ideal headset with many useful functions. On the positive side, I can attribute it to the easy installation in the ear canal, the 5.2 version of the wireless Bluetooth connection, and many aptX, AAC, and SBC codecs. Naturally, I like volume and bass.
Also, the game mode has a minimal delay and multi-functional touch control. On the other hand, I can mention the lack of fast charging, no active noise reduction or transparent mode, and low microphone quality in noisy places.
The price of Soundpeats Sonic and where can I buy it cheaply?
Soundpeats Sonic is now available for purchase at an attractive price under $50. I can recommend buying wireless headphones. Considering their low cost, they have a large number of positive characteristics.