Tronsmart Apollo q10 ANC has been a significant player in the budget-friendly audio industry for some time. Over the past few years, they have released countless pairs of earbuds, headphones, and speakers.
We have even had the pleasure of reviewing a few of their products in the past. Over the last few days, we have used them quite a bit. Today we will see Tronsmart Apollo Q10 Review.
We have nowhere to give our official opinion on how they are decorated. We are taking on the ANC headphones and seeing any good.
Tronsmart Apollo Q10 headphone retail for about under 100 dollars, and it is pretty in line with some of the ANC headphones in this range, like the tribit quietplus 78. I will tell you why this is a better choice.
| Specifications | Tronsmart Apollo Q10 |
| --- | --- |
| Colors | Black |
| Bluetooth Version | 5.0 |
| Transmission Distance | Up to 15 meters / 50 feet |
| Battery Capacity | 1200mAh |
| Play Time | Up to 100 hours |
| Charging Time | About 3 hours |
| Frequency Range | 20 – 20K Hz |
| Driver Unit | 40mm dynamic |
| Impedance | 32 ohms |
| Net Weight | 225g |
| Package Contents | 1 x Tronsmart Apollo Q10, 1 x User Manual, 1 x Charging Cable, 1 x Warranty Card, 1 x PU Storage Bag |
| Price | Check Price On Aliexpress |
Tronsmart Apollo Q10 Review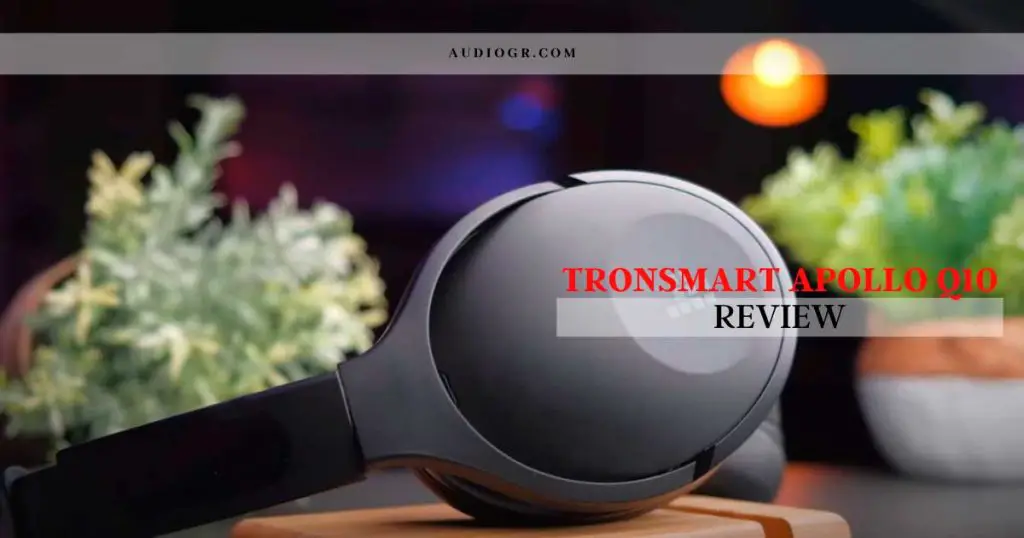 ---
Design & Build
These headphones have a modern, sleek design, which is minimal and looks good. One thing I hope that transmart will put is a hard case. Especially these headphones can make a nice flat case.
It would be nice that the entire headphones are made of this nice plastic finish that doesn't look like they scratch easily. the headphone feels friendly and coming in at 220 grams, which is on the lighter side of the spectrum and makes it super comfortable headphones to wear.
You barely notice it compared to its competition. The Tribit QuietPlus 78 weighs 270 grams, and the sony xm4 weighs 254 grams. Transmart gave these headphones a 360-degree tilting and rotating design that allows you to rotate, flex and extend.
These headphones fit your head very nicely. The bend is also solid stretching the headphones out doesn't creak or crack, which is nice. The band itself comes with a very soft foam-like material underneath the headband.
At the top of the headband, you get a lovely glossy finish. The band also extends nicely and easily clicks smoothly into place and doesn't get stuck along the way.
This is made out of plastic material. Honestly, I wouldn't say I like headphones showing a metal finish when you extend them. I must say that I like the simple minimalist look of the cup on each cup.
You will get an indented area with the tronsmart logo inside. The right ear cups are also where you get all the touch and swipe controls. The cushions on the ear cups are also very soft and very lovely.
It is made of this memory foam material that is super soft, with the left and right logos indicated on the inside of the ear cups. The earcup themselves are removable by rotating them, and honestly, it's not the most intuitive design.
On the top of each shot of the ear cups, you also get a massive microphone port for the ANC to work. The entire headphones as 5 microphones give you extra clear calls on the right side itself.
You also get a multi-function button, and at first, I thought this is the on/off button. Still, this button allows you to control the assistant feature only, and the on/off button is hidden at the top.
You have to tilt the right cup open for you to review them, and next to that, you also get the USB C charging cable to charge up the headphones with a type c charging port—honestly, not the most intuitive design or placement for ports and on-off buttons.
Honestly, I hope the ports and the button will be more visible at the bottom of the headphones.
---
Battery Life
From the battery life standpoint, the apollo q10 is the most impressive that I've seen for any ANC headset at this price range. It comes with a top-rated battery life of 100 hours on a single charge, and that is when you use it at 50 volume granted.
If you use it a lot of volumes, it will reduce the battery life. Even if you reduce it by 30 percent, you're still getting 70 hours of battery life from this Q10.
There is also a quick charge feature on these headphones, so 10 minutes of charge will give you 3 hours of playback time. Q10 headphone takes about 3 hours to charge fully.
---
Tech Space
The specs of the apollo q10 are very similar to its 3-bit counterpart, for starters. It comes with a Bluetooth 5.0 chipset and no Qualcomm chipset mentioned here.
These are good Bluetooth headphones. The headphone does support both aac and sbc audio codecs. There is also not have IP rating. So maybe try not to use it in places where you can get them wet.
Hopefully, a future model will come with water resistance, so getting caught in the rain won't kill. With the headphones in my testing, there is also no support for multi-point connectivity. So you can still connect them to multiple devices, just not at the same time.
---
The App
The tronsmart apollo q10 app is straightforward and allows you to adjust various settings for your headphones. You can see the battery percentage of your headphones.
Because this is an ANC headphone, the first obvious one is the ANC control to let you toggle between a and c off ambient mode and full-on ANC.
There is no further customization of the percentage or level of ANC you get, but this is what you get.
So this also allows you to control the different EQs of your headphone, which is pretty awesome. But it would be nice if future app updates could let you customize the EQ manually.
You get to choose between default deep bass and vocals, so apart from that, it also allows you to control and change the way you want to control your headphones. But I think the default settings that come with these headsets are plenty intuitive and very good already.
Each of the swipe controls can select and choose all the various controls such as volume up, down, previous, or next track.
In terms of customizing controls, I think this is pretty comprehensive, and if you go back out and press the top right button, you can also update the firmware if tronsmart releases new firmware for these headphones.
You can update it, and lastly, you also get a user manual to check out all of the different functions and capabilities of this apollo q10. All of the things you get with the tronsmart apollo q10 app.
---
Hybrid Active Noise Cancelling Technology
I will talk about the new Headset with hybrid active noise cancellation technology and with a price of only $59. Tronsmart Apollo Q10 ANC is good at this price point. Hybrid Active Noise Cancellation The biggest selling point of this new entry for apollo q10.
The hybrid active noise cancelling of the tronsmart apollo q10 is perfect for its price point. Transmart markets this to reduce about 35 decibels of ambient sound mode.
I think these are very effective, mostly when music is playing, and it mostly cuts out everything, but if you use it without media playing, it will cut out most low-frequency noises. But high pitch noises, sudden noises, or chatter still get through quite a bit.
It gives you pretty good passive noise isolation on top of that and ambient sound mode. This is also pretty good with slight amplification of the surroundings, but it's not overly annoying or artificial, which is good.
The tronsmart apollo q10 hybrid manages a healthy 75 percent reduction in ambient noise. So for the budget headset, I think this works well.
---
Sound Quality
I have been impressed so far with what they offer in terms of sound quality. I am pretty happy with the sound quality of the tronsmart apollo q10, and it generally gives you an adorable dynamic sound signature.
Overall, this headphone comes with a large 40-millimeter dynamic driver which is typical of most other headphones. This Q10 is pretty solid, putting aside eq settings in the app out of the box.
I hope the bass could be slightly stronger, but I think it is pretty sufficient mid, heist, and vocals on his headphones sound great for most listening scenarios.
There is no audio crumbling up, basically giving you an excellent separation for your audio coming from previous tronsmart apollo q10 audio products.
I think they've proven time and again that they know what they're doing when it comes to audio quality. This is an excellent pair of headphones.
---
Call Quality
This headphone does a fantastic job with calls and the sound quality that comes through. This headphone sounds nice and clean both in noisy and quiet environments, you hear. The noise-canceling 5 mics are doing their job to cancel most of the background noise.
In the case of the q10 cuts out almost 90 percent of the background noise. The tronsmart apollo q10 hybrid is a good headphone for making phone calls.
This is mistaking a relatively quiet environment, and this is the call quality you can expect from this Q10. You can turn on simulated background noise so you can hear the difference in sound.
---
Our Verdict
Overall this is a super reliable pair of hybrid active noise cancelling headphones with fantastic battery performance and sound quality. These are the best headphones at this price point. If your budget is under 100 dollars, then these headphones best choice for you.