We are looking at Edifier to take on the second ANC earbuds. Welcome to the Edifier TWS NB2 review. I am happy that Edifier has released its successor, and I think this is a great one.
Edifier TWS NB2 is less expensive than the latest Tronsmart Apollo bold. Price-wise, I think this is a good in-between for an ANC earbud.
Edifier TWS NB2 VS Tronsmart Apollo Bold
| Feature | Edifier TWS NB2 | Tronsmart Apollo Bold |
| --- | --- | --- |
| Bluetooth Version | 5.0 | 5.0 |
| Battery Life | 6 hours (earbuds) + 24 hours (charging case) | 10 hours (earbuds) + 20 hours (charging case) |
| Charging Time | 1 hour (earbuds) + 2 hours (charging case) | 1.5 hours (earbuds) + 2 hours (charging case) |
| Water Resistance | IPX4 | IP45 |
| Noise Cancellation | Yes | No |
| Driver Size | 6mm | 6mm |
| Microphone | Built-in microphone (in both earbuds) | Built-in microphone (in both earbuds) |
| Audio Codecs | SBC, AAC | SBC, AAC |
| Touch Controls | Yes | Yes |
| Price | Check Latest Price | Check Latest Price |
Edifier TWS NB2 Review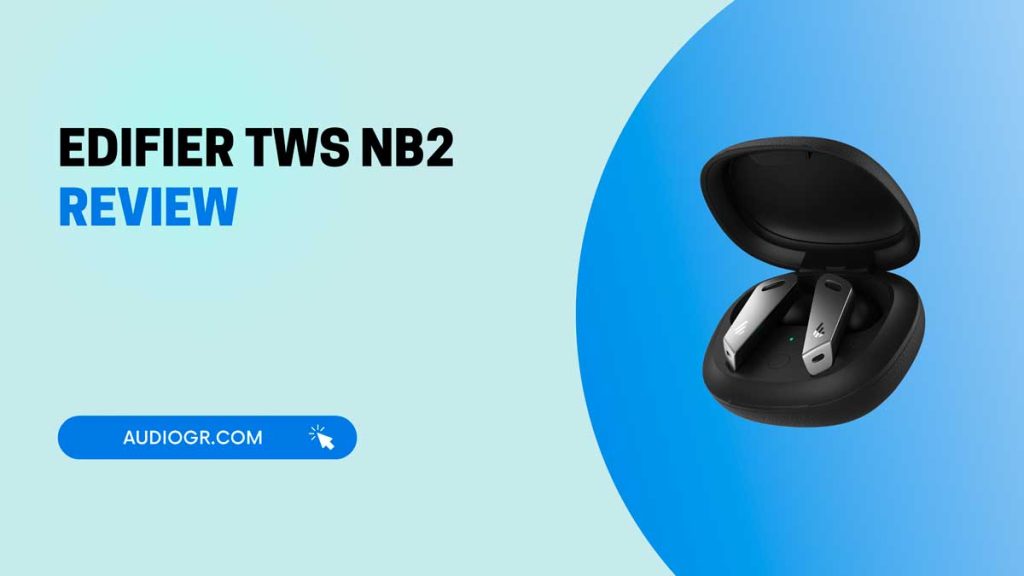 ---
Design & Build
I noticed that Edifier, like most manufacturers, puts more emphasis on packaging for their more expensive earbuds. I think the box of the NB2 looks classy, and it also comes with a faux leather case with the earbuds nicely presented to you inside.
The earbuds' claim material is made of leather-like plastic, giving the case a classy and luxurious outlook. Overall, touching it doesn't feel leatheriest, but it sure looks good, and the weight of the earbuds is pretty nice, not too heavy, not too light.
You can see a lovely edifier logo at the top, and it doesn't have the name brand anymore, which I think is a fantastic design choice that Edifier made. The entire case feels minimal, and nothing else is printed around.
The case makes it look cheap, and if you flip the topic to the back, you will see a USB type-c charge port and a charging indicator. I hope all earbuds that edifier launches in the future follow this trend.
So opening the case, the lid's hinge feels super solid with a nice snap. Once you open them and hold their position, I think this is one critical design feature that differentiates a high quality from a cheap earbud inside.
There are a led indicator and a pairing button, and you will see the beautiful earbuds, which are lovely and elegantly presented to you.
When you pick up the earbuds, you will notice that the nb2 is like the edgy gaming cousin to the AirPods pro. The AirPods pro lacks straight lines edifier nb2 emphasizes edges, which is an excellent design.
Overall flipping the earbuds around, you will see the tip of the earbuds, which are pretty large and house all the technology inside this hit. The earbuds also have an in-ear detection sensor that we will talk more about in a little while.
So ANC on the earbuds should give you about seven hours of continuous playback time. The case provides two and a half times the charge cycle, giving you 18 hours of extra playback time.
When you turn off ANC, the earbuds give you 9 hours of continuous playback time and 23 hours. the case battery performance depends on the volume level you play your music in, and the louder you play them, the shorter the battery life.
Overall the earbuds on the case take about one and a half to two hours to charge fully.
---
Features
The nb2 gives you a whole host of features to make these earbuds worth your money for starters in the features department. Edifier uses the best techniques BS2300 Bluetooth 5.0 chipset, which is used in a google pixel.
But this gives you good audio performance as well as fantastic latency performance. We will look at those later. The earbuds are also rated as ip54 dust and water-resistant, which is better than the original NB.
Original NB is the only ipx4, but it is the total opposite of the tronsmart apollo bold, which is rated to be ip45 instead, but to be honest, ip54 is sufficient to get you through most of your day sweating, raining, and even working out, but since these earbuds are not rated to be swimming earbuds.
So please don't bring them swimming. So the Edifier tws nb2 also comes with smart player paws, which means that the earbuds come with in-ear sensors to detect if you are wearing them and play your pause pieces of music accordingly.
So it is smart because you get to configure them inside the app, which the tronsmart apollo bold doesn't have but later on, when the uploadable has app control.
We will look at that as well, and lastly, the Edifier tws nb2 also supports a super seamless mono and stereo switching mode. It works flawlessly.
Putting either side into the case doesn't pause the music, and by the time you pick up the other side and put it in your ears. Again it's already paired and in sync with the other side. So this is one of the best executions I have seen for a mono stereo switching.
---
Edifier Connect App
Once you connect the tws nb2 to the mobile app, you will see the percentage of both earbuds' batteries on the first page. The only thing it doesn't show is the percentage of the battery of the case, so what it allows you to do in the first picture is toggle between noise cancellation and ambient noise.
So when you go into a noise cancellation, that's full-on noise cancellation, and if you go to ambient noise, what Edifier did here that is very cool is that it allows you to control the ambient amount of noise that comes into the earphones.
If you want more ambient noise, just put it to 3, and if you want even less, go to negative three. If you go down here, you can see the currently playing song and interact with it.
If you are inside the app so, on top of that, what you can do is go to settings and inside the grounds. It allows you to do a couple of things; for example, you can change your earphones' names.
You can check the firmware, and what's cool here is that the Edifier tws nb2 supports in-ear detection. So if you like that feature, you can come here and turn them on. You can click to turn on or turn off in-ear detection and what you want to do with them.
There is a unique and useful feature to have. You can also toggle the tab sensitivity timer to shut down and go in and out of game mode. The only thing that I hope to have is volume controls inside the app itself, hopefully in future updates.
You can change the touch sensor controls on the earphones to include volume controls, so that's the app of the Edifier tws NB2.
---
ANC performance
The ANC performance on the NB2 is quite impressive, and for mid-range ANC earbuds, I think these are some of the best in the market.
The nb2 uses an AMS hybrid ANC technology that detects sound outside and inside your ear canals and uses complex algorithms to reduce that noise. Edifier claims that it is 28 better than the original NB.
It does an excellent job of testing them with the AirPods pro and the tronsmart apollo bold. My verdict is that the AirPods pro cuts out about 80 of ambient noise, and the tronsmart cuts out about 70 of that ombre noise.
My evaluation with my ears and the right ear tips manages to cut off about 75 percent of ambient noise. I think that this is slightly better than the tronsmart apollo bold.
---
Sound Quality
The NB2 comes with the legendary 85 sound quality, but at least some of their more expensive earbuds if you tried the original NB tws5 or tws6. It is an amalgamation of all of those earbuds.
The base is crazy deep, just like the tws5, but the mids and highs are tuned like the tws6, which is good because all of this sound is pumped out through a single 13mm graphene driver, which is enormous for an in-ear style earbud.
They managed to do this because of the airport-style stem, where they can move many components down to the branch and fit a larger driver. The original NB also has a 13mm driver, but the earbuds are massive.
---
Call Quality and Connectivity
The call quality of the nb2 is also excellent. The voice comes through very clearly and using. These earbuds for phone calls in a quiet environment are superb, even in noisy environments.
I think it is trying to cut off ambient noise, but the good news is that your voice still comes through nicely and clearly.
The best technics Bluetooth 5.0 chipset is excellent. When using it for movies or watching videos on youtube or Netflix, using game mode for gaming is also really good and at 18 milliseconds.
It is perfect for genuinely wireless earbuds compared to the apollo bold, which is still not ideal for gaming, and even the AirPods pro lags slightly when gaming.
---
Controls
Edifier is not known for its excellent control schemes. Everything else is perfect. I think this is one part that the edifier student needs to improve. You don't get to customize the app's controls.
You have to live with pre-configured in the factory. Tapping twice on the left earbud allows you to toggle between the ANC mode.
ANC on ambient mode and normal mode, which is no ANC, and tapping three times on the left earbuds will target you in and out of gaming mode.
You will hear a prom inside saying whether you are in or out of gaming mode, and on the right side of the earbuds, tap twice to play your pause media and pick up phone calls.
If you want to skip forward, you can tap three times, and it will cut your media ahead. The funny thing about this is that Edifier doesn't put in a skip backward; it only allows you to skip ahead, so not backward.
That is very odd, and I hope that Edifier starts noticing and updating its app to allow customization in the future. So that's all the controls you get with the edifier tws nb2.
---
Overall
The Edifier TWS NB2 is a fantastic pair of ANC earbuds. I would even say get this if you like the styling more than the apollo bold. Both are great options, and I will leave the final decision to you, so that is it for this review.
Cons
No EQ Control
No Voice Assistant